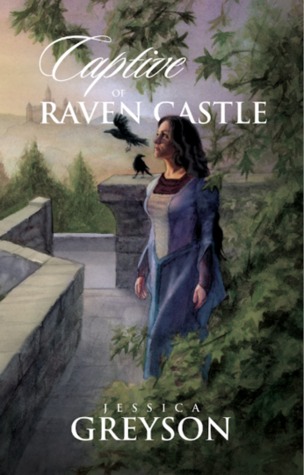 Age Appropriate For:
13 and up for very mild romance and mild violence
Description:
The troubled people of war-torn Chambria are on the brink of starvation, and a delicate princess with a recurring nightmare is their only hope. Alexandra knows that her value to her country consists mainly in her ability to marry well, but when she is kidnapped by the rebels and taken to meet the man claiming to be both Chambria's true king and her real father, her entire world falls apart. Will Princess Alexandra be able to untangle the web of lies and discern who is the true king and her father?
Even though I knew that none of Greyson's books could ever come close to AnnaBeth's War, I have been looking forward to Captive of Raven Castle. From page one I was sucked into the story and I found myself loving this book even more than AnnaBeth's War. How is that even possible?
Alexandra tugged at my heart, as everything that she has ever known is challenged after she is kidnapped. Everything from who is king, who her father is, who are her friends and who are her enemies. Some people found her frustratingly slow, but I felt sorry for her and her slowness understandable.
Taleon made an awesome hero, almost as awesome as Ransom. His kindness and patience with Alexandra was as touching as the moments he pushed her to face the lies she had always believed. There was a bit of romance, with some hand-holding and dancing, but that is as far as it went.
This story was a bit more violent than AnnaBeth's War, but nothing was too graphic. This story was different, but so amazing. It was gripping and kept me turning pages. I loved every page, and I will be rereading it in the future.
I highly recommend this book for those who love adventure, princess, and strong female characters.